If you have children at Minnie Cline Elementary, you've likely seen, met, or at least heard of the newest member of the MC family - Mac. Mac is an adorable Aussiedoodle who spends his days encouraging emergent readers, greeting students and staff, and calming the overall climate of the elementary school.
Minnie Cline's Assistant Principal, Chase Holcumbrink, says that his family had considered adding a dog for a while. "Knowing the needs and trauma that our students have faced, we wanted to have a dog that could not only be a member of our family but would also bring calmness and comfort to Minnie Cline. As a therapy dog, I am Mac's handler, but at home, he is our best friend."
Mac began working with Monica Davis of Pup Pup K9 when he was only five months old. Even though he spent over six months of intense training with Ms. Davis, she will continue coaching Mac long into the future. Mr. Holcumbrink explained that when Mac is wearing his "therapy dog vest," he knows he's on duty, and the two become a team, but when they are at home, Mac spends his time like any other family pet. He loves going on walks, catching a ball, and playing in the yard with Holcumbrink's children.
While "on duty" at Minnie Cline, Mac spends his time one on 1 with students and in small groups.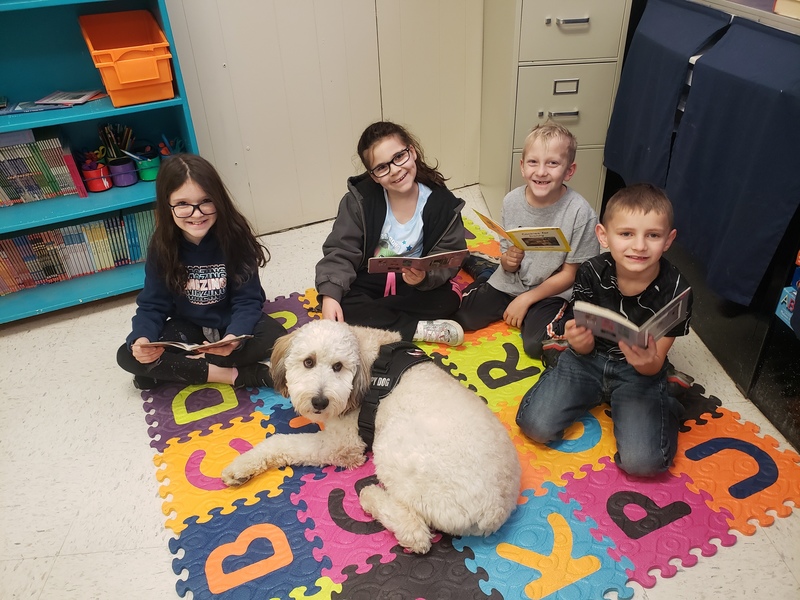 He's a great listener and can often be found cuddled up to a student reading a good book. Reading Teacher Annie Maier says her students love when Mac comes to visit the classroom, and they are always eager to share a new story with him.
According to an article written by The Alliance of Therapy Dogs, there are several benefits to having therapy animals in the classroom, including reduced stress and blood pressure, greater self-esteem, and increased interaction with other students and staff members. The article also notes that therapy dogs can play an essential role in supporting students' emotional and mental health by offering friendship, lifting moods, provoking laughter, and providing a shoulder to lean on.
It's safe to say that Mac has been a welcomed addition to Minnie Cline Elementary. Thank you to the Savannah Rotary and the St. Joseph Evening Optimist Club for sponsoring Mac's therapy training.
For more information on Therapy Dogs in Schools, check out these resources:
NASSP ~ Therapy Dog Programs Improving Student and Staff Wellbeing